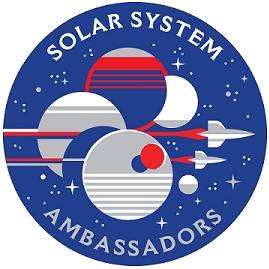 NASA/JPL Solar System Ambassador
–-----
Contact me at the email address at the bottom of this page to discuss star parties and presentations for schools, scout groups, and non-profit organizations.
–-----
Opinions expressed on this website are my own and not that of NASA or JPL
---
Ephemeris Radio Schedule Monday - Friday
The Stations of Interlochen Public Radio
WIAA 88.7 FM Interlochen
94.7 FM Traverse City
WICV 100.9 FM East Jordan, Charlevoix
WHBP 90.1 FM Harbor Springs, Petoskey
---
Observing Weather in Northwestern Lower Michigan
---
On this site – articles of interest for this month
O'Ryan the Irish Constellation
December 2017
Interested in learning more? If you live in northwestern lower Michigan check out the Grand Traverse Astronomical Society.
More information on visible planetary and other events are available on Bob Moler's Ephemeris Blog the day of the event. The blog contains Monday-Friday program transcripts, most with illustrations.
Extra! My report on the Great American Eclipse.
Highlights for December 2017 (ET)
   Date     Local   Event
           Time    
Dec 01  Fr          Venus: 9.4° W
    03  Su  8:00 am Moon-Aldebaran: 0.8° S
    03  Su 10:47 am Full Moon
    04  Mo  3:42 am Moon Perigee: 357500 km
    05  Tu  6:43 am Moon North Dec.: 20° N
    07  Th  4:30 am Moon-Beehive: 2.5° N
    07  Th  7:39 pm Moon Ascending Node
    08  Fr  5:25 pm Moon-Regulus: 0.7° S
    10  Su  2:51 am Last Quarter
    12  Tu  8:40 pm Mercury Inferior Conjunction with the Sun
    13  We 11:27 am Moon-Mars: 4.5° S
    14  Th  1:07 am Geminid Meteor Shower: ZHR = 120!
    14  Th  9:26 am Moon-Jupiter: 4.7° S
    18  Mo  1:31 am New Moon
    18  Mo  8:27 am Moon Apogee: 406600 km
    19  Tu  4:31 am Moon South Dec.: 20.1° S
    21  Th 11:29 am Winter Solstice
    21  Th  3:18 pm Saturn Conjunction with the Sun
    22  Fr  5:04 am Moon Descending Node
    22  Fr 10:00 am Ursid Meteor Shower: ZHR = 10
                    Note:  The Ursid radiant is near
                    the Little Dipper's bowl
    26  Tu  4:20 am First Quarter
    30  Sa  7:25 pm Moon-Aldebaran: 0.7° S Occultation
Jan 01  Mo          Venus: 1.9° W
NASA - SKYCAL - Sky Events Calendar by Fred Espenak and Sumit Dutta (NASA's GSFC) (with occasional annotations)
Occultation of Aldebaran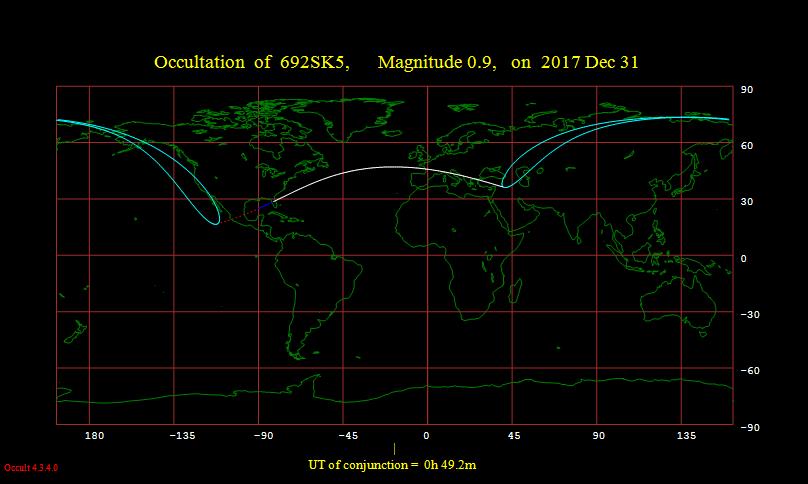 Map of the area where the occultation of Aldebaran will be visible. Created using Occult 4 from IOTA.org.
For Traverse City/Interlochen the occultation will start at 6:17 p.m. EST December 30 and end at 7:16 p.m.
It will vary by a few minutes for northern lower Michigan. Otherwise use a planetarium program like Stellarium to preview the event. However, set the program for topocentric coordinates. In Stellarium that's in the Configuration window, Tools Tab and check the Topocentric coordinates box. Topocentric coordinates are the apparent positions for your location on the Earth. For Cartes du Ciel (Sky Charts) The setting is under Setup/Solar System. So also make sure your location is correct. The geocentric conjunction of the two bodies will be December 31, 0:49.2 UTC, so it will occur after midnight on the night of December 31st for locations in northern Europe and Asia.
I'll have more information on December 29th on my blog http://bobmoler.wordpress.com.
---
Active Planetary Space Missions
We have a new location for information on planetary space missions. It's here at the Planetary Society. The chart is created by Olaf Frohn, and is updated every month.
Free Software
Stellarium is a fabulous planetarium program with a very realistic sky and simple controls. The newest version , 0.16.1 is the current beta release.
If you have an older computer download 0.12.8, which may work better for you. They've added some features in the latest version (0.16.n) and and a new rendering engine that may not be compatible with computers more than a year or two old. http://stellarium.sourceforge.net/
Cartes du Ciel (Sky Charts) is a great telescope companion. Version 4.0 came out in March 2016. You can download it from http://astrosurf.com/astropc/.
Virtual Moon Atlas is a great tool for reference at the telescope or desk. http://www.astrosurf.com/avl/UK_index.html
Celestia is a great 3D simulator of solar system objects and beyond. http://www.shatters.net/celestia/
Hallo Northern Sky is an interesting planetarium program. It seems not as polished as Stellarium, but has some cool features. I use it when planning star parties as a quick way to see what would be visible. http://hnsky.org/