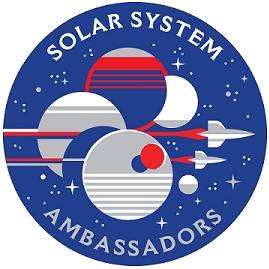 NASA/JPL Solar System Ambassador
–-----
Contact me at the email address at the bottom of this page to discuss star parties and presentations for schools, scout groups, and non-profit organizations in person or via Zoom.
–-----
That being said, opinions expressed on this website are my own and not that of NASA or JPL
---
Ephemeris Radio Schedule Monday - Friday
6:19 & 8:19 a.m. - News stations
The Stations of Interlochen Public Radio
WIAA 88.7 FM Caberfae
W234BU 94.7 FM Traverse City
WLNM 89.7 FM Manistee, Ludington
WHBP 90.1 FM Harbor Springs, Petoskey
---
Observing Weather in Northwestern Lower Michigan
---
On this site – articles of interest for this month
O'Ryan the Irish Constellation
January 2022
Interested in learning more? If you live in northwestern lower Michigan check out the Grand Traverse Astronomical Society.
More information on visible planetary and other events are available on Bob Moler's Ephemeris Blog the day of the event. The blog contains Monday-Friday program transcripts, most with illustrations and additional information.
I dug through the IPR web archives and found these:
I'm interviewed about all things astronomical prior to the August 21, 2017 eclipse. Photo, text, and audio.
--------------
Extra! My report on the Great American Eclipse of August 21, 2017, with added animated GIF of the sky at the totally eclipsed Sun, watching the shadow pass over.
Planetary Highlights for January 2022 (ET)
    Date      Time    Event
Jan  1  Sa            Venus: 12.4° E
     1  Sa   6:00 pm  Moon Perigee: 358000 km
     2  Su   8:35 am  Moon South Dec.: 26.3° S
     2  Su   1:33 pm  New Moon
     3  Mo   3:56 pm  Quadrantid Shower: ZHR = 120
     3  Mo   7:59 pm  Perihelion: 0.9833 AU
     4  Tu  11:50 am  Moon-Saturn: 4.2° N
     5  We   7:09 pm  Moon-Jupiter: 4.5° N
     7  Fr   5:59 am  Mercury Elongation: 19.2° E
     8  Sa   7:50 pm  Venus Inferior Conjunction
     9  Su   1:11 pm  First Quarter
    12  We  11:17 pm  Mercury-Saturn: 3.4° N
    12  We  11:19 pm  Moon Ascending Node
    14  Fr   4:27 am  Moon Apogee: 405800 km
    16  Su   5:16 am  Moon North Dec.: 26.3° N
    17  Mo  10:37 am  Moon-Pollux: 2.9° N
    17  Mo   6:48 pm  Full Wolf Moon
    18  Tu  11:33 am  Moon-Beehive: 3.5° S
    23  Su   5:25 am  Mercury Inferior Conjunction
    25  Tu   8:41 am  Last Quarter
    27  Th   1:14 am  Moon Descending Node
    29  Sa  10:05 am  Moon-Mars: 2.4° N
    29  Sa   6:26 pm  Moon South Dec.: 26.4° S
    30  Su   2:09 am  Moon Perigee: 362300 km
Feb  1  Tu            Venus: 32° W
All event times are given for UTC-5:00: Eastern Standard Time
Sky Events Calendar by Fred Espenak and Sumit Dutta (NASA's GSFC),
http://eclipse.gsfc.nasa.gov/SKYCAL/SKYCAL.html
If you go to the above site you can print out a list like the above for the entire year or calendar pages for your time zone.
Note that the site is now kept up for archival purposes. Fred Espenak retired from NASA several years ago and has his own site, AstroPixels, which contain much the same information: http://astropixels.com/almanac/almanac.html. However, he doesn't adjust for Daylight Saving Time.
---
Looking ahead at Astronomy and Space in 2022
Let's look ahead at 2022 in astronomy and space, two years away from another great American eclipse.
T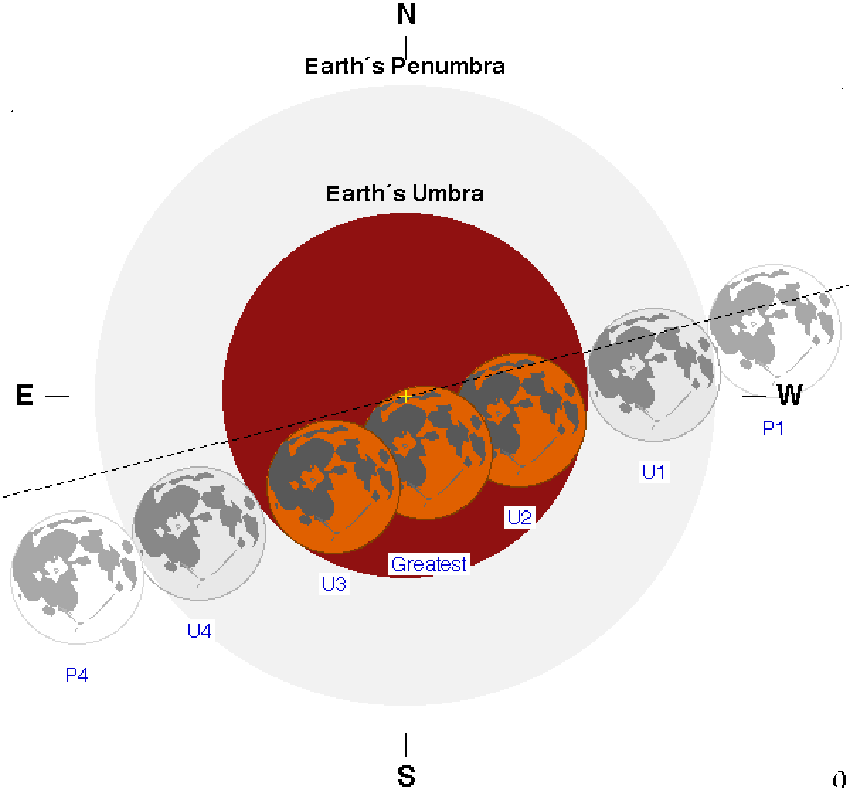 he Moon's journey through the Earth's shadow on May 16, 2022. Credit: NASA/GSFC
Speaking of eclipses, there will be a total lunar eclipse visible from the United States on the night of May 15/16, a Sunday night. The partial phase will begin at 10:28 pm (U1), totality at 11:29 pm (U2). Totality will end at 12:54 am (U3), and finally the partial phase will end at 1:55 am (U4).
2022 holds a mixed bag as far as meteor showers are concerned. The two best meteor showers of the year, the Perseids which will reach peak on the night of August 12/13 and the Geminids, December 13/14, will both be diminished by waning gibbous Moons. However the both of Halley's Comet produced showers have little lunar interference. They are the Eta Aquariids, May 6/7, and the Orionids of October 21/22. Also visible on the cold morning of January 4, is the peak of the Quadrantids, whose radiant is in northern Boötes. For more information on the other major and minor meteor showers of 2022, check out the International Meteor Organization at www.imo.net.
Looking to the bright planets I'll take them in order from the Sun. Mercury has two favorable viewing periods next year. On April 9th it will be at its greatest eastern elongation, 20.6° east of the Sun and visible in the west after sunset for at least a week and a half. On October 8th it will be at its greatest western elongation, 18.0° west of the Sun in the morning sky and visible for another week and a half. The week and a half period is for naked eye observing. The longer part of that period is prior to greatest western elongation, and after greatest eastern elongation.
Venus will spend most of the year in the morning sky. It starts the year barely visible after sunset. It will pass inferior conjunction with the Sun on January 8th, passing between the Earth and the Sun. It will pass Mars on March 15th. Its greatest western elongation from the Sun will occur on March 20th. It will make a nice grouping with Saturn, the crescent Moon and Mars on the morning of March 28th.
Venus, the Moon, Saturn and Mars close grouping at 6 am March 28, 2022 as it should appear from Northern Michigan. Created using Stellarium.
On the morning of April 27th, Venus will make a tight grouping with Jupiter and the crescent Moon. Venus will appear closest to Jupiter, about a half a degree apart on the morning of April 30th. Venus will slowly head back toward the Sun until Superior conjunction with the Sun on October 22nd. It will be the bright Evening Star by the end of the year.
Mars will be a morning planet most of the year. It will be moving through the zodiacal constellations from Ophiuchus, north of Scorpius, and pass through Sagittarius, and Capricornus, where it will pass Saturn on April 4th. Then it will move into Aquarius, where it will pass Jupiter on May 29th. It will pass through Pisces and Aries, before ending the year with a retrograde loop in Taurus.
Mars will reach opposition from the Sun on December 8th. It will be moving away from the Sun in its elliptical orbit, as will the Earth at that time. However, Mars has a much more elliptical orbit than the Earth, so closest approach to us will be on the evening of November 30th at 50.5 million miles or 81.4 million kilometers. This is about 15 million miles further than it was in its last closest approach in 2018.
Saturn will spend the year in central and eastern Capricornus. It's in the evening twilit sky until its solar conjunction on February 4th. It will then enter the morning sky until opposition. It will cross paths with the aforementioned Venus on March 28th, with the waning crescent Moon also nearby. See the image to the left.
Of the two telescopic planets. Uranus is in Aries this year and will reach opposition from the Sun on November 9th, at magnitude 5.8, barely naked eye. However the Moon, a day past full and close to it, will overpower it. Neptune will spend the year on the border between Aquarius and Pisces. It will reach opposition from the Sun on September 16th.
Space
The launch of the uncrewed Artemis-1 mission has been postponed at least a month to no earlier than March 12th. They're swapping out a control computer for one of the main engines. Anyway the first crewed landing on the Moon has already pushed back to 2025 or later for other problems. Also SpaceX's first orbital Starship launch is also pushed back due to a two month extension of the FAA's environmental study to the end of February.
The James Webb Space Telescope was finally launched Christmas day, 2021. As I write this it is unfolding itself. It should be at the L2 Lagrangian point and ready for operation by mid-year.
August should see the launch of the Psyche mission to the mostly metallic asteroid of the same name on a Falcon Heavy rocket.
Late September or early October should see the deliberate impact of the DART spacecraft with the tiny Dimorphos asteroid to see what it takes to deflect an asteroid.
That's not all, by a long shot.
Have a Happy New Year!
Free Software
Stellarium is a fabulous planetarium program with a very realistic sky and simple controls.
They've added some features in the latest version (0.21.2) and new rendering engine that may not be compatible with older computers without using command line options. See the Stellarium User Guide (pdf) under Command Line Options for what to try. https://stellarium.org.
There's a web based version of Stellarium. It's pretty much bare bones, but works much like the computer version. It's located here: https://stellarium-web.org.
Cartes du Ciel (Sky Charts) is a great telescope companion. I use it to create finder charts for comets and calendar lists of twilight times for the monthly preview on my blog. It can be downloaded from http://astrosurf.com/astropc/.
Virtual Moon Atlas is a great tool for reference at the telescope or desk. http://www.astrosurf.com/avl/UK_index.html.
Celestia is a great 3D simulator of solar system objects and beyond. http://www.shatters.net/celestia/
Hallo Northern Sky is an interesting planetarium program. It seems not as polished as Stellarium, but has some cool features. I use it when planning star parties as a quick way to see what would be visible because it loads quickly. http://hnsky.org/