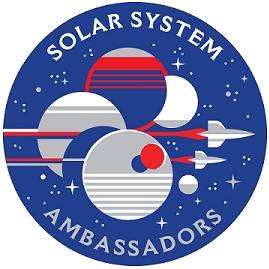 NASA/JPL Solar System Ambassador
–-----
Contact me at the email address at the bottom of this page to discuss star parties and presentations for schools, scout groups, and non-profit organizations in person or via Zoom.
–-----
That being said, opinions expressed on this website are my own and not that of NASA or JPL
---
Ephemeris Radio Schedule Monday - Friday
6:19 & 8:19 a.m. - News stations
The Stations of Interlochen Public Radio
WIAA 88.7 FM Caberfae
W234BU 94.7 FM Traverse City
WLNM 89.7 FM Manistee, Ludington
WHBP 90.1 FM Harbor Springs, Petoskey
Note that scripts for the programs plus illustrations and additional information are art of my blog, which can be clicked on above or here.
---
Observing Weather in Northwestern Lower Michigan
---
On this site – articles of interest for this month
The Scorpion Crawls Over the Horizon Updated
Sightseeing Around the Summer Triangle
August 2022
Interested in learning more? If you live in northwestern lower Michigan check out the Grand Traverse Astronomical Society.
More information on visible planetary and other events are available on Bob Moler's Ephemeris Blog the day of the event. The blog contains Monday-Friday program transcripts, most with illustrations and additional information.
I dug through the IPR web archives and found these:
I'm interviewed about all things astronomical prior to the August 21, 2017 eclipse. Photo, text, and audio.
--------------
Extra! My report on the Great American Eclipse of August 21, 2017, with added animated GIF of the sky at the totally eclipsed Sun, watching the shadow pass over.
Planetary Highlights for August 2022 (ET)
    Date      Time    Event
Aug  1  Mo            Venus: 21.7° W
     4  Th  12:58 am  Mercury-Regulus: 0.7° N
     5  Fr   7:06 am  First Quarter
     5  Fr   4:30 pm  Moon Descending Node
     6  Sa   5:33 am  Venus-Pollux: 6.5° S
     7  Su   4:29 am  Moon-Antares: 2.8° S
     9  Tu   2:36 am  Moon South Dec.: 27° S
    10  We   1:14 pm  Moon Perigee: 359,800 km
    11  Th   9:36 pm  Full Sturgeon Moon
    11  Th  11:55 pm  Moon-Saturn: 3.9° N
    12  Fr   9:20 pm  Perseid Shower: ZHR = 90
    14  Su  12:35 pm  Saturn Opposition
    15  Mo   5:37 am  Moon-Jupiter: 1.9° N
    17  We  12:02 pm  Venus-Beehive: 0.9° S
    18  Th   6:59 am  Moon Ascending Node
    19  Fr  12:36 am  Last Quarter
    19  Fr   6:32 am  Moon-Pleiades: 3.4° N
    19  Fr   8:16 am  Moon-Mars: 2.9° S
    20  Sa   4:36 am  Mars-Pleiades: 5.6° S
    22  Mo  11:08 am  Moon North Dec.: 27.1° N
    22  Mo   5:53 pm  Moon Apogee: 405,400 km
    23  Tu   8:17 pm  Moon-Pollux: 2.3° N
    24  We   9:46 pm  Moon-Beehive: 3.8° S
    25  Th   4:58 pm  Moon-Venus: 4.7° S
    27  Sa   4:17 am  New Moon
    27  Sa  11:59 am  Mercury Elongation: 27.3° E
Sep  1  Th            Venus: 13.6° W
All event times are given for UTC-4:00: Eastern Daylight Time
Sky Events Calendar by Fred Espenak and Sumit Dutta (NASA's GSFC),
http://eclipse.gsfc.nasa.gov/SKYCAL/SKYCAL.html
If you go to the above site you can print out a list like the above for the entire year or calendar pages for your time zone.
Note that the site is now kept up for archival purposes. Fred Espenak retired from NASA several years ago and has his own site, AstroPixels, which contain much the same information: http://astropixels.com/almanac/almanac.html. However, he doesn't adjust for Daylight Saving Time.
---
Free Software
Stellarium is a fabulous planetarium program with a very realistic sky and simple controls.
They've added some features in the latest version (0.22.0) and new rendering engine that may not be compatible with older computers without using command line options. See the Stellarium User Guide (pdf) under Command Line Options for what to try. https://stellarium.org.
There's a web based version of Stellarium. It's pretty much bare bones, but works much like the computer version. It's located here: https://stellarium-web.org.
Cartes du Ciel (Sky Charts) is a great telescope companion. I use it to create finder charts for comets and calendar lists of twilight times for the monthly preview on my blog. It can be downloaded from http://astrosurf.com/astropc/.
Virtual Moon Atlas is a great tool for reference at the telescope or desk. http://www.astrosurf.com/avl/UK_index.html.
Celestia is a great 3D simulator of solar system objects and beyond. http://www.shatters.net/celestia/
Hallo Northern Sky is an interesting planetarium program. It seems not as polished as Stellarium, but has some cool features. I use it when planning star parties as a quick way to see what would be visible because it loads quickly. http://hnsky.org/