Planets Visible to the Unaided Eye
October 2012
Times are for the Grand Traverse Region of Michigan – Eastern Time.
These are the planets visible from antiquity plus any comets that become visible without optical aid.
Contents
---
Solar System View of the Bright Planets

Planetary motion for the month of October 2012 is shown by the white tracks the planets leave at 5 day intervals for the month.
Jupiter is in the west in the evening, below Venus, and soon will only be seen in evening twilight.

Saturn is located to the left of the bright star Spica in Virgo. It will move in opposition from the sun on the 14th.
---
Planet and Other Events for October 2012
Oct 8.
Last Quarter Moon 3:33 a.m.
Oct 9.
Draconid Meteor Shower - A.K.A. Giacobinids. Poor most years meteor storm possibilities when comet is in the area. Duration October 6-10. Related to Comet Giacobini-Zinner.
Oct 17. & Oct 18.
Mars 1.6°S of Moon 8:05 a.m. Oct 18th.

Oct 20.
Mars 3.6°N of Antares 2:04 a.m.
Oct 21.
First Quarter of Moon 23:31 (local time)
Orionid Meteor Shower - 25 meteors per hour. Duration 15th to the 29th. Related to Halley's Comet.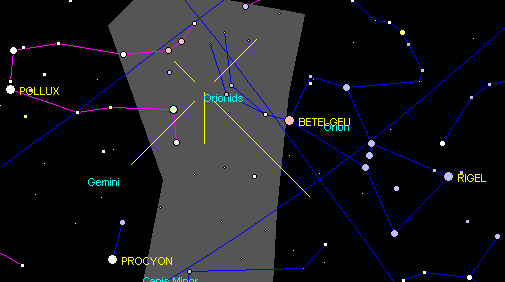 Oct 26.
Mercury greatest elongation east of the sun.(24°) 6:02 p.m. Evening apparition. Best seen in the southern hemisphere.
Oct 29.
Full Moon 15:49 (local time)
---
The Morning Planets and Moon at Sunrise
The Evening Planets and Moon at Sunset
Press your browser's Back button to return
---
Questions or comments, send an email to: bob@bjmoler.org
Updated: 10/06/12